1921 Milburn Light Electric, Model 27L
(Serial #223597, Motor #1040796)
---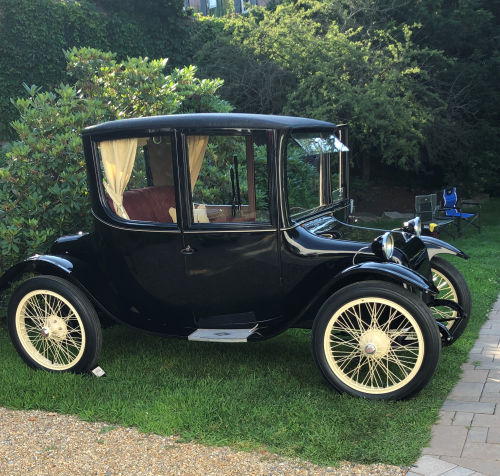 This car has been restored to its original color of Black with an interior consistent with the upholstery style of the period.
In late September 1914, the Milburn Wagon Company began the manufacture of 1915 Milburn Light Electric automobiles. During the eight years of production from 1915 to 1923, they turned out over 4,000 cars. Today, fifty-five (55) are known to remain. This 1921 Model 27L is one of eleven (11) remaining that were originally built in that year.

Milburn Electrics were among the most popular and elegant cars of the time and were used by President Woodrow Wilson's secret service men. President Wilson, himself, owned a 1918 Milburn Electric, which he drove around the White House grounds.

Bill & Linda Lillie purchased this car in August 2018 at the Lloyd and Shirley Young Estate Auction in Canal Winchester, Ohio. It is believed that the car had been restored in the 1980's in California with a bold red velvet interior and a rose metallic exterior paint, neither of which would have been authentic in 1921. (See Paint Section below). It was decided to restore the car back to its original appearance and that work was begun in December 2018 at Vintage Motorcars, LLC in Westbrook, CT. Early in the process, the movable rear window was found to be stuck. To access the window track, the rear seat and the wooden back to the seat had to be removed and a remarkable historical find was made. Wedged at the bottom of the window was a letter postmarked April 30, 1937, addressed to Mrs. E.J. Hanna of 1200 W. 3rd Street, Waterloo, Iowa.

Mrs. Hanna must have propped the letter against the back window (or used it as a wedge to stop the window from rattling!) and it slipped behind the seat to be lost for over 80 years! The long lost letter and the research that followed brought the history of this car back to life. (In addition to this letter, a number of other artifacts were discovered in other window pockets in the car and they are described in the Artifacts Section below.
History
---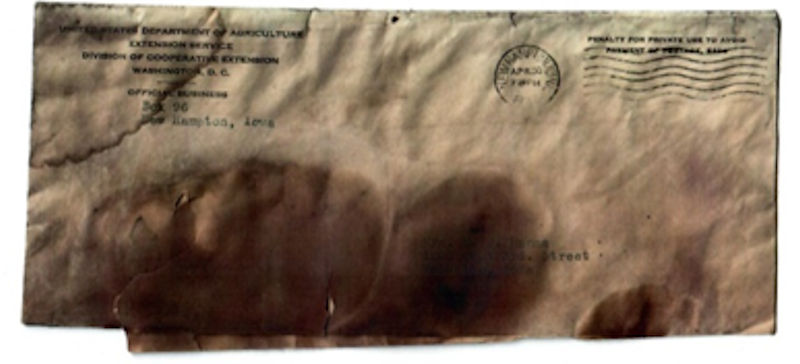 Mrs. E. J. Hanna, a.k.a. "Stella" (maiden name Estella J. McElhinney) lived with her husband Dr. H.H. Hanna (deceased April 1942) in Waterloo, Iowa for a number of years at 1200 W. 3rd Street. From 1908 into the late 1940's, Stella Hanna was a wealthy, prominent property owner in the Waterloo area. From 1914 into the early 1940's, she owned and operated multiple tenant farms in the area. After Dr. Hanna's death, Stella moved to 3421 4th Ave, Waterloo with her four sons, Phil H., Joseph E. (born 1922), James and Percy.

On June 28, 1942, The Waterloo Courier ran a front page story, "Owner of Waterloo's Last Electric Auto Unworried by Gas Rationing", that had a picture of the Milburn electric she had owned since 1926. There were a number of things in the article that were very interesting.
The photo showed Detroit Electric bumper(s) on her Milburn car
Her Milburn was serviced most of the time she owned it by Max Teske, Manager of J & M Motor, Company of Waterloo, Iowa
The article mentioned that this was Stella's second Electric car (see the Side Notes Section below)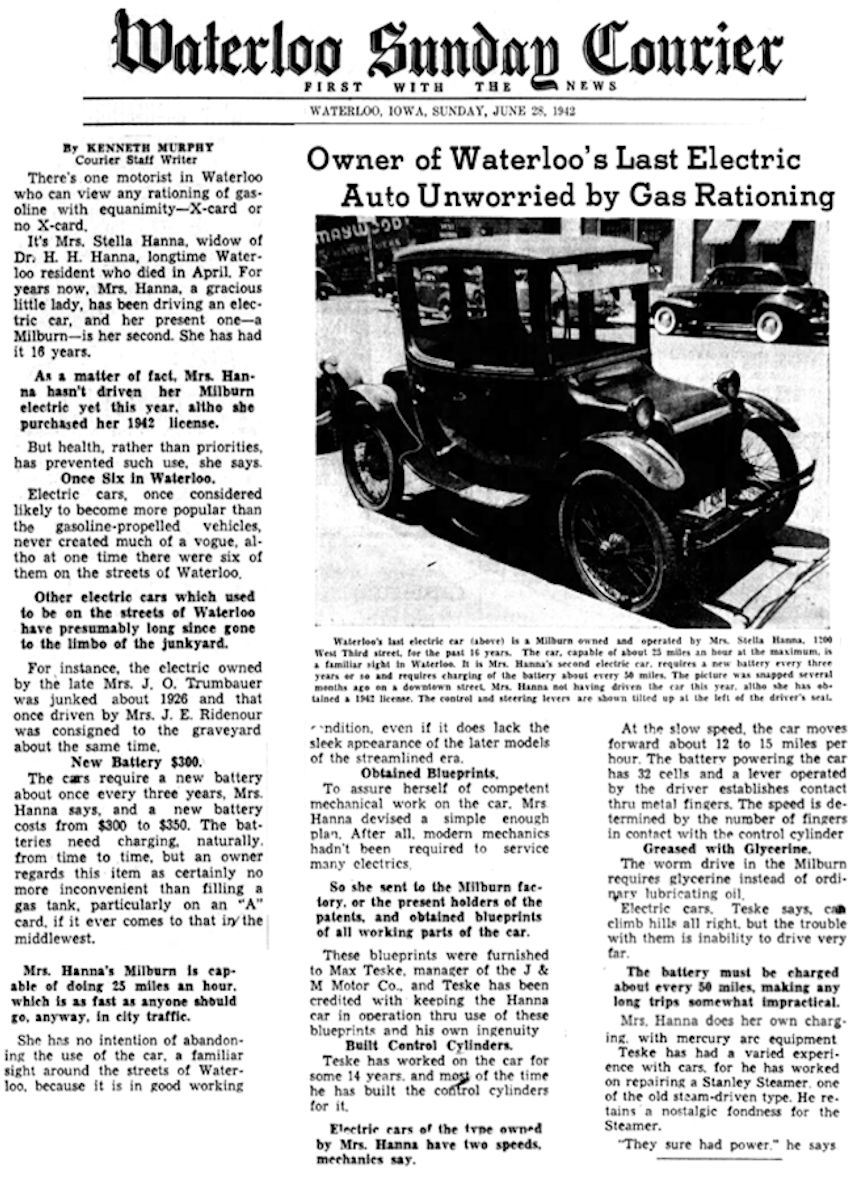 In December 1925, seventeen (17) years prior to the 1942 story and one year prior to when Stella purchased her Milburn, the Waterloo Courier ran an advertisement from Repass Automobile Co., W. Park and Cedar Streets, Waterloo selling a "Milburn Electric, Newly Painted (see Paint Section), Bumpers, front and rear, Upholstering A-1, Good Tires and Battery, Complete with rectifier".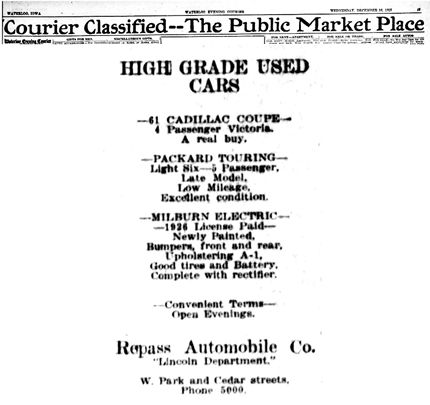 The timing would be correct for this to have been the car that Stella purchased in 1926, especially since Stella's Milburn had bumper(s) and Repass Automobile Co. was advertising a Milburn with bumpers, which was not a standard feature. Additionally, Repass Automobile Co. and J&M Motor Company, the company managed by Stella's Milburn mechanic, were co-located at W. Park and Cedar Streets. It appears likely that the company Hanna purchased the Milburn from also serviced the car for most of her ownership.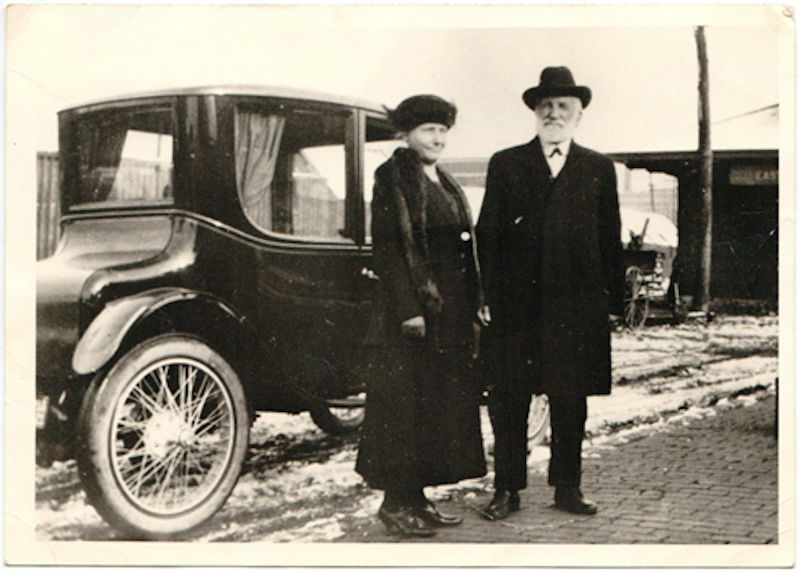 Stella Hanna purchased a used Milburn in 1926. While it cannot be absolutely confirmed, it is believed that this is the same car originally purchased new by Cora Ellen Steely in 1921. Cora lived in Waterloo, Iowa from around 1895 to her death in 1962. The photo below was provided by Alex Taylor, a maternal 2nd great-grandson of Cora Steely. "Cora Steely and her father, John M. Steely. Written on the back: "Her New Electric Car --- 1921". This is the same year, model and color of Stella Hanna's car.

When the Lillie's purchased the car from the Young Estate in 2018, it was painted a unique rose metallic color, like no other Milburn that exists today (or probably ever!). That unique color, helped connect its history back to a picture taken in the 1970's of a similarly colored car owned by Jim Murray of Galva, Ill.

Jim Murray's car was the same year and model; had similar body and fender colors, curtains, white wall tires and headlamps. During restoration of the Lillie Milburn in early 2019, removal of the paint on the hood revealed that just under the top layer of rose color paint, was a brown layer identical to the photo of the Murray car in the picture, confirming that this was the same car.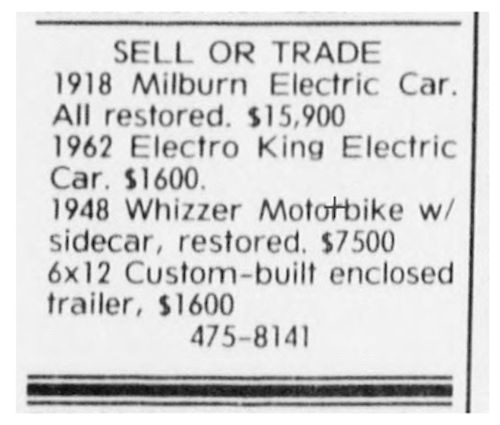 Reportedly, Jim Murray bought the car from John Herbin in Kansas, kept the car for a year or two and sold it to someone in California in the mid 1970's. The latest California owner sold the car to JP Auto Sales, 2335-J Soquel Drive, Santa Cruz California in 1991. The car was advertised for sale in the Santa Cruz Sentinel in March 1991 and later in the San Francisco Examiner on October 25 and 27, 1991. (The car was advertised as a 1918 Milburn, when, in fact, it was a 1921. It was common to misidentify the year of Milburns because they were all similar in appearance).

Shirley Young of Canal Winchester, Ohio purchased the car from JP Auto Sales prior to February 21, 1992 when she registered it in Ohio.
Believed Ownership History of 1921 Milburn Light Electric Model 27L
S/N 223597, Motor Serial 1040796
| | |
| --- | --- |
| Years | Ownership |
| 1921 - 1925 | Original Owner probably Cora Ellen Steely, Waterloo, Iowa |
| 1925 | Repass Automobile Company, Waterloo, Iowa |
| 1926 - 1942 (or later) | Stella Hanna, Waterloo, Iowa |
| 1960's | Reportedly a 60's(?) registration with John Herbin from Kansas |
| Early 1970's for a "year or two" | Jim Murray, Galva, IL |
| Mid 1970's - 1991 | Unknown owner(s) in Santa Cruz, California area |
| 1991 | JP Auto Sales, 2335-J Soquel Drive, Santa Cruz, CA |
| Jan or Feb 1992 - August 2018 | Shirley Young, Canal Winchester, Ohio |
| August 2018 to present | Bill & Linda Lillie, Gales Ferry, CT |
Paint
---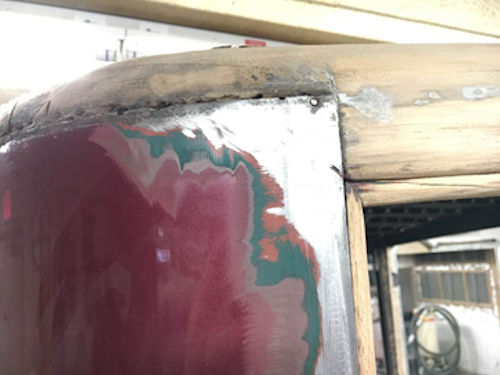 1921 - Original: red/orange factory primer followed by a green base coat and black top coat.
1925 - Repass Automobile Company "Newly Painted"- was probably a repaint of the black. There appeared to be right side damage repaired and the right body panel was completely stripped, painted with a gray primer and a black top coat.
Early 1970's - Jim Murray (or the prior owner in Kansas) applied a brown primer coat. In some places he sanded some of the black top coat off, some places he went over the black and in other places he completely stripped all of the paint to bare metal.
Mid 1970's to 1990 - it is not known when or who applied the rose metallic top coat and red velour interior, but probably a California owner.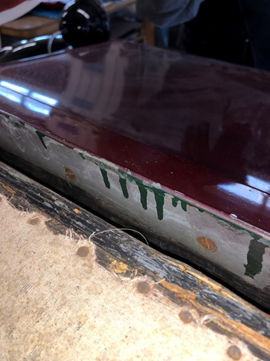 Green Paint Drips in Front Window Frame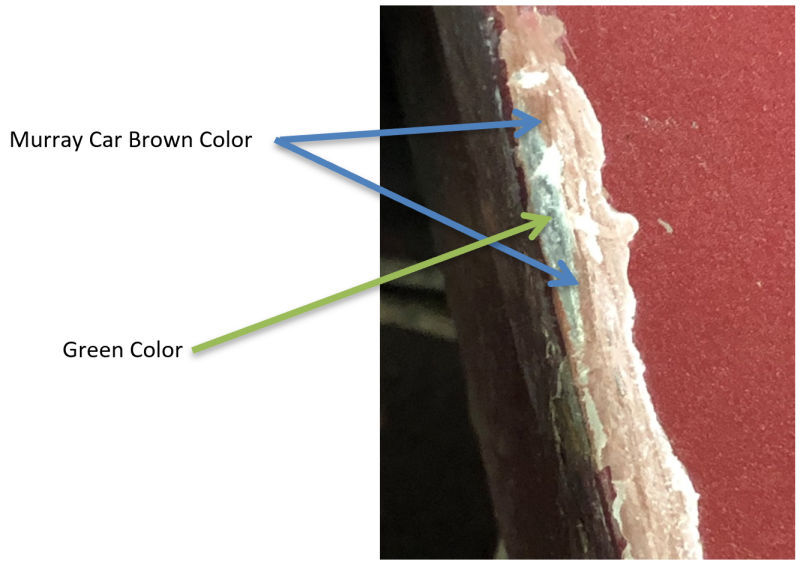 Layers of Paint
Artifacts
---
Artifacts discovered in the car during the 2019 restoration.
(Updated periodically)
USDA Extension Service Division of Cooperative Extension Letter
Dated April 30, 1937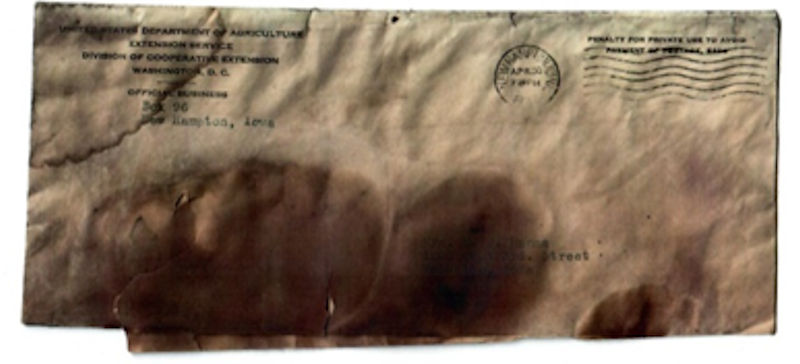 Envelope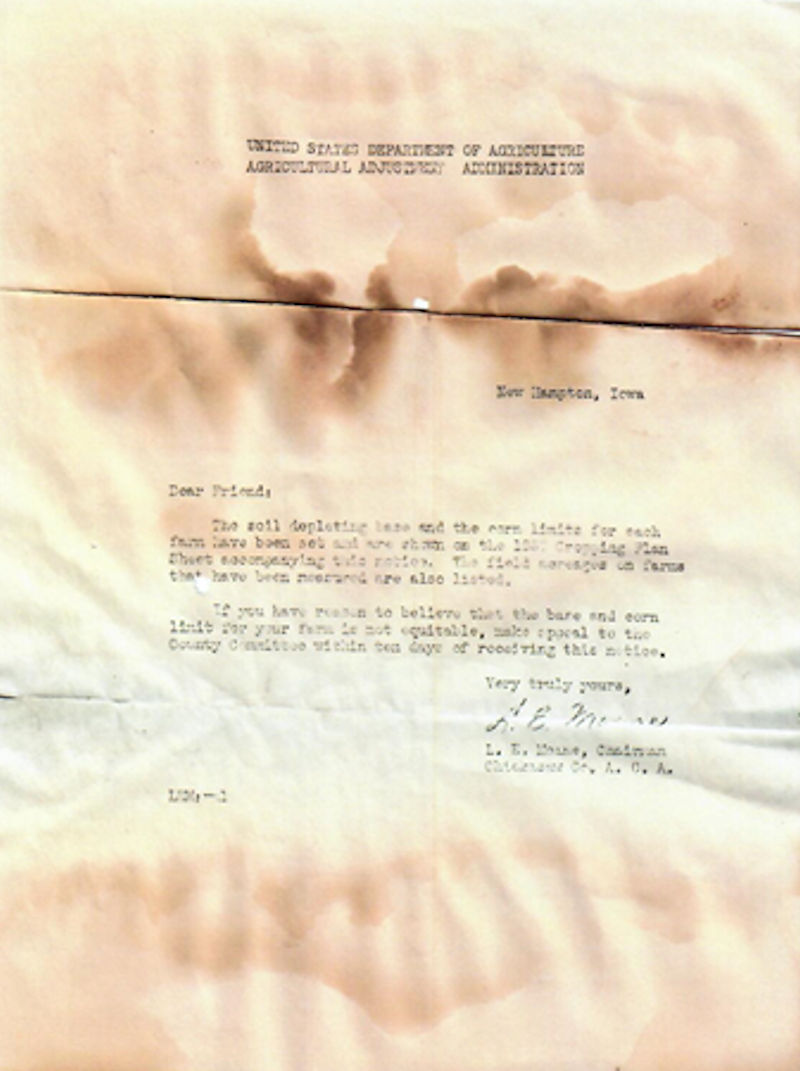 Page 1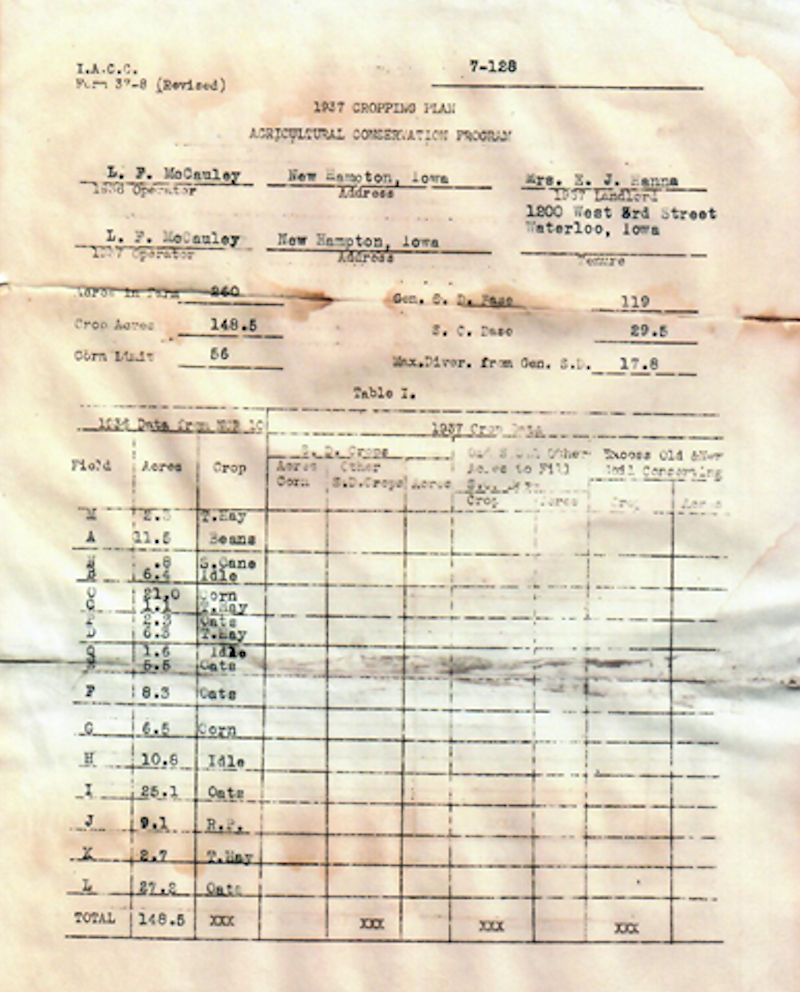 Page 2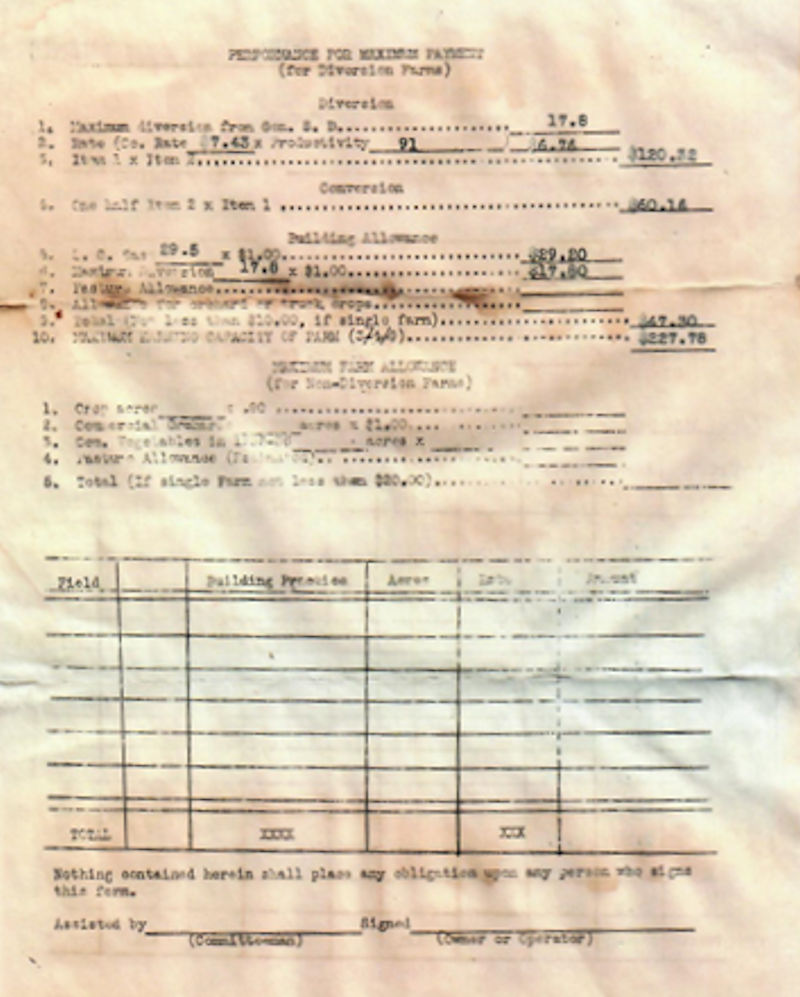 Page 3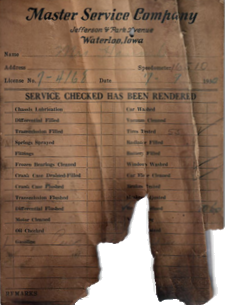 Master Service Company Service Report and Invoice
Jefferson & Park Avenue, Waterloo, Iowa

Name: "Mrs. Hanna"
Speedometer: 16510
License No.: "7-4168" (same as seen in the 1942 Newspaper Story Photo)
Date: 7-9-1030

SERVICE CHECKED HAS BEEN RENDERED
Brakes Relined $10.60
Tires Tested
Windows Washed
Car Floor Cleaned
Gasoline "Pur"?
Advertisement Card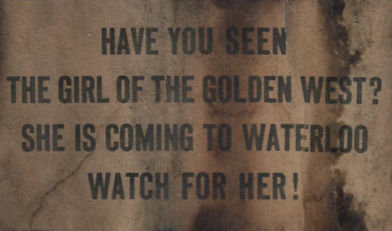 The Girl of the Golden West is a 1938 American musical western film adapted from the play of the same name by David Belasco. A frontier woman falls in love with an outlaw. Stars: Jeanette MacDonald, Nelson Eddy, Walter Pidgeon, Buddy Ebsen.
Undated Sales Flyer for Tires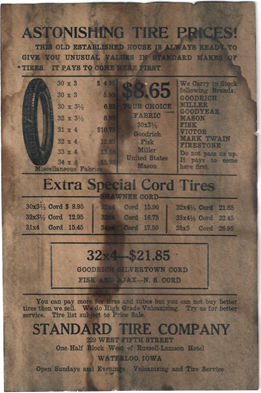 Car Show Poster (probably from 1992 or later)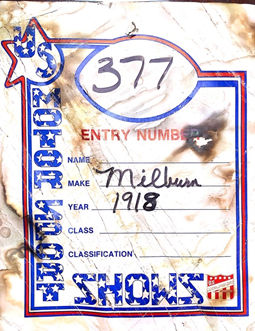 Side Notes
---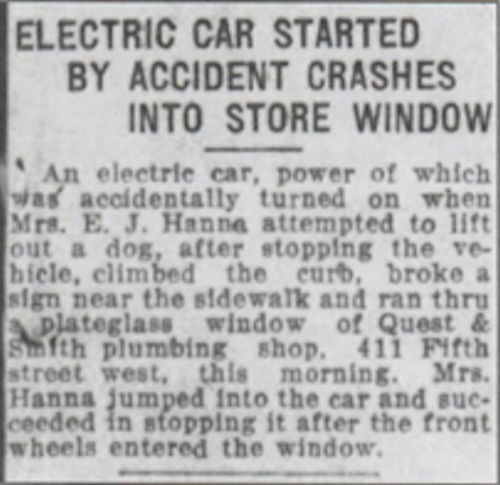 A side note from the 1942 newspaper story was the mention that Stella owned another electric car prior to her Milburn. That was corroborated by a May 26, 1920 Waterloo Courier story, "Electric Car Started by Accident Crashes into Store Window".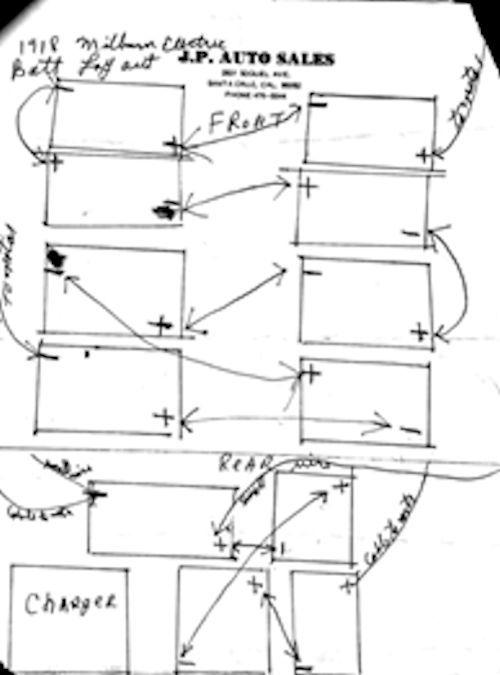 This hand drawn sketch on JP Auto Sales letterhead was delivered with the car when Shirley Young purchased it in late 1991 or early 1992 confirming their previous ownership
Our Blog
---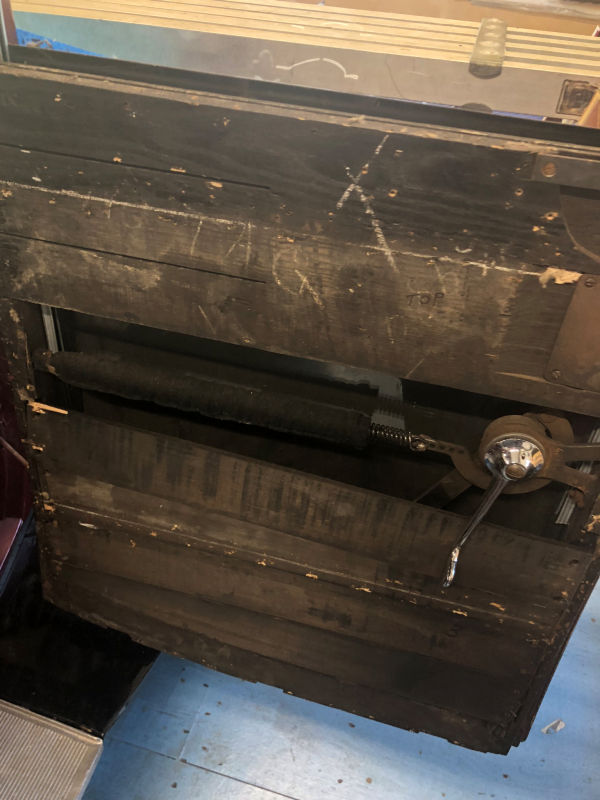 Don't Forget the Crevices
You never know what you might find...

Recently, while restoring a 1921 Milburn Light Electric, we discovered a number of artifacts from the 1930's that were lost inside window pockets. They were stunning finds! After lots of research, we were able to determine virtually the whole history of the car, including identifying many of the previous owners. Fortunately, there is a registry of Milburn cars at www.milburn.us that contains a wealth of information of the cars known to remain which was a big help. In addition, there are great resources available to do research, e.g., Newspapers.com, Ancestry.com. Until we discovered the artifacts, this car was misidentified in the registry, so this completely altered the understanding of the history of several cars.

The artifacts in the car verified that the second owner was Stella Hanna of Waterloo, Iowa who was a prominent person in Waterloo, Iowa. In her memory, we decided to name our car after her. (There is a possibility that the original owner was Cory Steely, but that can't be absolutely proven).

Read more